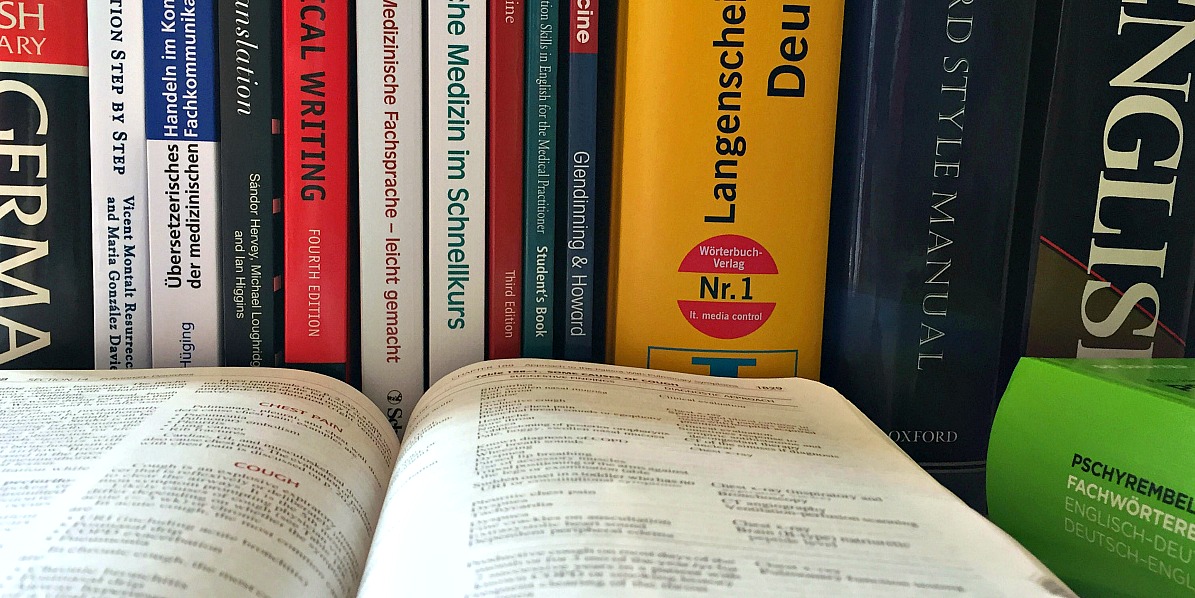 Even in our highly digital world, books still have pride of place on our desks and bookshelves. We certainly wouldn't be without them! Here's a selection of our favourite dictionaries and books on medical translation and writing.

We've focused on books in English and German, for people working with either or both of these languages. There are no affiliate links and we haven't been asked to recommend any of these – they're just personal favourites from our workspaces, as well as a few from our wishlists.
English medical dictionaries
An English medical dictionary is a must for medical writers and translators working in, into or out of English. Here are some of the most popular:
Dorlands Illustrated Medical Dictionary
Oxford Concise Medical Dictionary
German-English medical dictionaries
The following dictionaries are a good investment for medical translators working between German and English:
Pschyrembel Fachwörterbuch Medizin kompakt, Englisch-Deutsch/Deutsch-Englisch by F.-J. Nöhring
Der Große Reuter. Springer Universalwörterbuch Medizin, Pharmakologie und Zahnmedizin, Deutsch-Englisch/Englisch-Deutsch
Wörterbuch der bildgebenden Verfahren/Dictionary of Medical Imaging, Deutsch/Englisch, English/German
German medical dictionaries
For medical translators and writers working with German, Pschyrembel is an excellent reference:
Pschyrembel Klinisches Wörterbuch and Pschyrembel online
The following is a useful lexicon of medical abbreviations and acronyms in German, English, French and Latin. When you order the book you also receive access to the electronic version.
Abkürzungslexikon medizinischer Begriffe by Heinz Beckers
Books on medical writing in English
Here's one of the best books we've found on medical writing in English:
Medical Writing: A Prescription for Clarity by Neville W. Goodman and Martin B. Edwards
The following style guide is useful for anyone working with American English:
American Medical Association Manual of Style
Books on writing in English
These two books on writing in English are a worthwhile addition to your bookshelf. Some disagree with The Elements of Style, but it's a good read nonetheless – at least you'll know what the arguments are about!
On Writing Well: The Classic Guide to Writing Nonfiction by William Zinsser
The Elements of Style by William Strunk Jr. and E. B. White
Books on medical translation in English
This is the only English book on medical translation we know of. A rare find!
Medical Translation Step by Step. Learning by Drafting by Vicent Montalt Resurrecció and Maria González Davies
Books on medical translation in German
This book is a useful reference on medical translation, in German:
Übersetzerisches Handeln im Kontext der medizinischen Fachkommunikation by Kathrin Hüging
There is also a new book available on translating clinical trial documents:
Ein Überblick über klinische Studien und das Übersetzen von Studiendokumenten by Daniela Penn
Books on German-English translation
I've studied the following book in depth and found it very useful. However, I know some translators who don't like it – see what you think!
Thinking German Translation by Sandor Hervey et al.
Books on medicine for medical writers and translators
There are so many excellent books on general medicine that it's hard to select just a few to recommend. The following two are standard reference books and would be a good starting point:
Harrison's Principles of Internal Medicine by Dan Longo et al.
The Merck Manual of Diagnosis and Therapy
Books on medical English for non-native speakers:
These two books provide a useful introduction to medical English for non-native English speakers:
Good Practice Student's Book: Communication Skills in English for the Medical Practitioner by Marie McCullagh and Rosalind Wright
Professional English in Use Medicine by Eric Glendinning and Ron Howard
This book aims to help German-speakers learn medical English:
KWiC-Web Fachwortschatz Medizin Englisch: Sprachtrainer & Fachwörterbuch in einem by Ingrid and Michael Friedbichler
German speakers who need to communicate results of clinical studies to an international audience may find this book helpful:
Langenscheidt Scientific English für Mediziner by Christian Hrdina and Robert Hrdina
Books on medical German
The following two books are aimed at German speakers who need to learn medical terms in German.
Fachsprache Medizin im Schnellkurs: Für Studium und Berufspraxis by Axel Karenberg
Medizinische Fachsprache – leicht gemacht by Wunna Lippert-Burmester and Herbert Lippert
For a completely different approach, with detailed drawings, explanations and lots of useful anatomical terms in German and Latin, you could try this colouring book:
Das Lehrbuch der Anatomie by Kurt H. Albertine
It is also available in English:
The Anatomy Student's Self-Text Colouring Book by Kurt H. Albertine
We hope you find these books helpful references for your medical translation and writing. Let us know if there are any other good books on these topics that you would recommend.